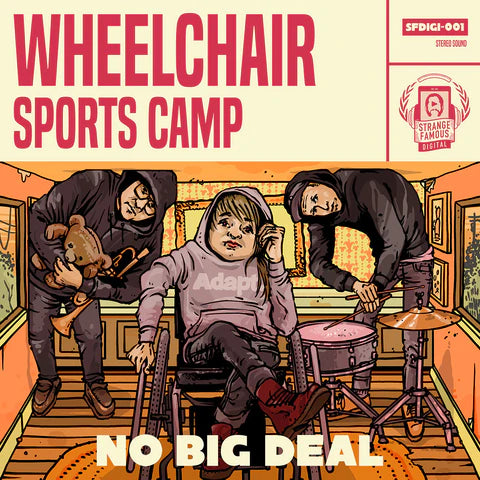 WHEELCHAIR SPORTS CAMP "No Big Deal"
NO BIG DEAL, the first official studio album from Denver's WHEELCHAIR SPORTS CAMP, is produced by the late, great 
IKEY
 
OWENS
 (Jack White, The Mars Volta, Free Moral Agents.) This musical milestone details the signature experience of lead vocalist, Kalyn Heffernan, a shit-talking emcee and activist whose unique circumstance provides perspective unlike those heard almost anywhere.
WSC first got their start in 2008 combining humor, playfulness, radical politics, compassion, and a love for rhyme schemes. In 2016, not only are hometown Colorado beatmakers involved, but their album features talents from Los Angeles, Canada, and the U.K., while overall production duties were left to the legendary 
Ikey
 
Owens
 shortly before his tragic passing in 2014. This is a family affair for Heffernan (vocals,) Joshua Trinidad (trumpet,) and Gregg Ziemba (drums,) who have toured extensively together for the past several years, often alongside their STRANGE FAMOUS cohorts.
"The last time I met with 
Ikey
 was to catch up on life stuff and discuss his work with WSC," explains SAGE FRANCIS. "Despite being a music virtuoso and seasoned producer, he seemed equally excited as he was nervous to tackle a hip-hop project. We discussed what style of music might best suit Kalyn, but from everything I had heard it was all on the right path."