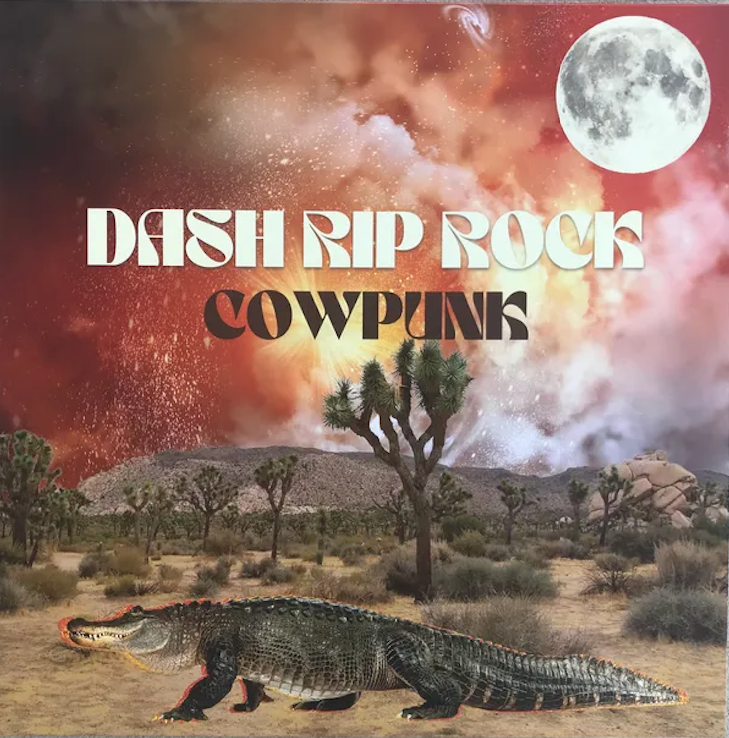 DASH RIP ROCK "Cowpunk" LP/CD
100% Cowpunk! Recorded at Rancho de la Luna in Joshua Tree with Dave Catching of EODM/QOTSA. Mixed and mastered by Alaine Johannes of Them Crooked Vultures and What is This? 10 cowpunk bangers from the psycho punk days of Dash Rip Rock – plus 2 covers by Status Quo & Gram Parsons. Dash delivers hard fast desert punk with the mud of the swamp on their boots. Get this vinyl now before they sell the fuck out!
Dash Rip Rock is the legendary New Orleans trio known for high-octane roots rock. The New York Times says Dash Rip Rock combines "fluency in American roots music with a robust dose of punk-rock spirit.†SPIN praises Dash Rip Rock as "undeniably the South's greatest rock band.†In 2012 Dash Rip Rock was honored to be inducted into the Louisiana Music Hall of Fame. 
Dash Rip Rock has long been celebrated for tight musicianship, high energy live shows, and songs of raw insolence and longing that are sometimes cut with whimsy. Bill Davis, Dash Rip Rock's founder and frontman, is a songwriter known for his blistering guitar work. For over 20 years, the band has amassed a loyal, diverse following. The wide tent of their cross-genre fan base includes aficionados of rock, roots-rock and Americana as well as rockabilly, country, and punk fans. DRR has released 17 records that have been hailed as underground classics. 
Bill Davis started the band, and DRR was first signed to 688 and then Mammoth Records. In the '90s Dash Rip Rock scored a national radio hit, "Let's Go Smoke Some Pot.†This tongue-in-cheek classic is still played religiously over FM airwaves on counterculture feast days and covered regularly by major rock acts. This Louisiana-based band's latest records are on Jello Biafra's Alternative Tentacles label in San Francisco and Drag Snake Records in New Orleans. 
Dash Rip Rock tours extensively and headlines numerous clubs, festivals, and roots listening rooms. Dash Rip Rock has toured with Reverend Horton Heat and The Cramps and has shared the stage with The Ramones, Jerry Lee Lewis, Lou Reed, The Replacements, No Doubt, the Circle Jerks, Screamin' Jay Hawkins, Black Crowes, Joe Ely and countless others, at times playing up to 250 shows a year. In 2010 Dash Rip Rock's song "Johnny Ace†was featured in the hit video game Rock Band. Bill Davis also appeared in the 2011 documentary Outside Industry: The Story of SXSW.
Bill Davis, founder, lead guitarist and vocalist and songwriter of Dash Rip Rock is often credited as a pioneer of "country punk,†"cowpunk,†and alt-country music that combines elements of rock with country and outlaw country.