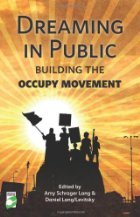 "DREAMING IN PUBLIC, Building The Occupy Movement" by Amy Schrager Lang & Daniel Lang/Levitsky BOOK
Since September 2011, the Occupy movement has captured the world's imagination. The media has been flooded with accounts of demonstrations, descriptions of the encampments, interviews with Occupiers, and discussions of Occupy's merits, political and otherwise. But what do its participants have to say?
Dreaming in Public gathers together dispatches, essays, blog posts, and images from within the movement aimed at influencing its development and addressing those not yet involved. Produced by participant journalists, political analysts, writers, polemicists, photographers, organizers, and activists, these documents capture the vibrant, contentious, illuminating, and inventive exchange of Occupy.
Work from contributors such as Naomi Klein and Harsha Walia complement public declarations from the movement, images, and graphics. Some pieces explore the rites and rituals of the movement, others its aims and overall structure. Yet others take up the role differences of race and gender play in a movement that claims to represent the 99%, and the complicated business of maintaining urban encampments. Many consider the challenge participatory democracy poses to conventional ideas of what politics is or should be.
The materials in this collection attest not only to the extraordinary political energy that has already come out of Occupy, but to the implications of the movement for the future.
Amy Schrager Lang is professor of English and humanities at Syracuse University and author of a number of books.
Daniel Lang/Levitsky is an artist, theater producer, writer, and founding member of the Direct Action Network and Jews Against the Occupation.