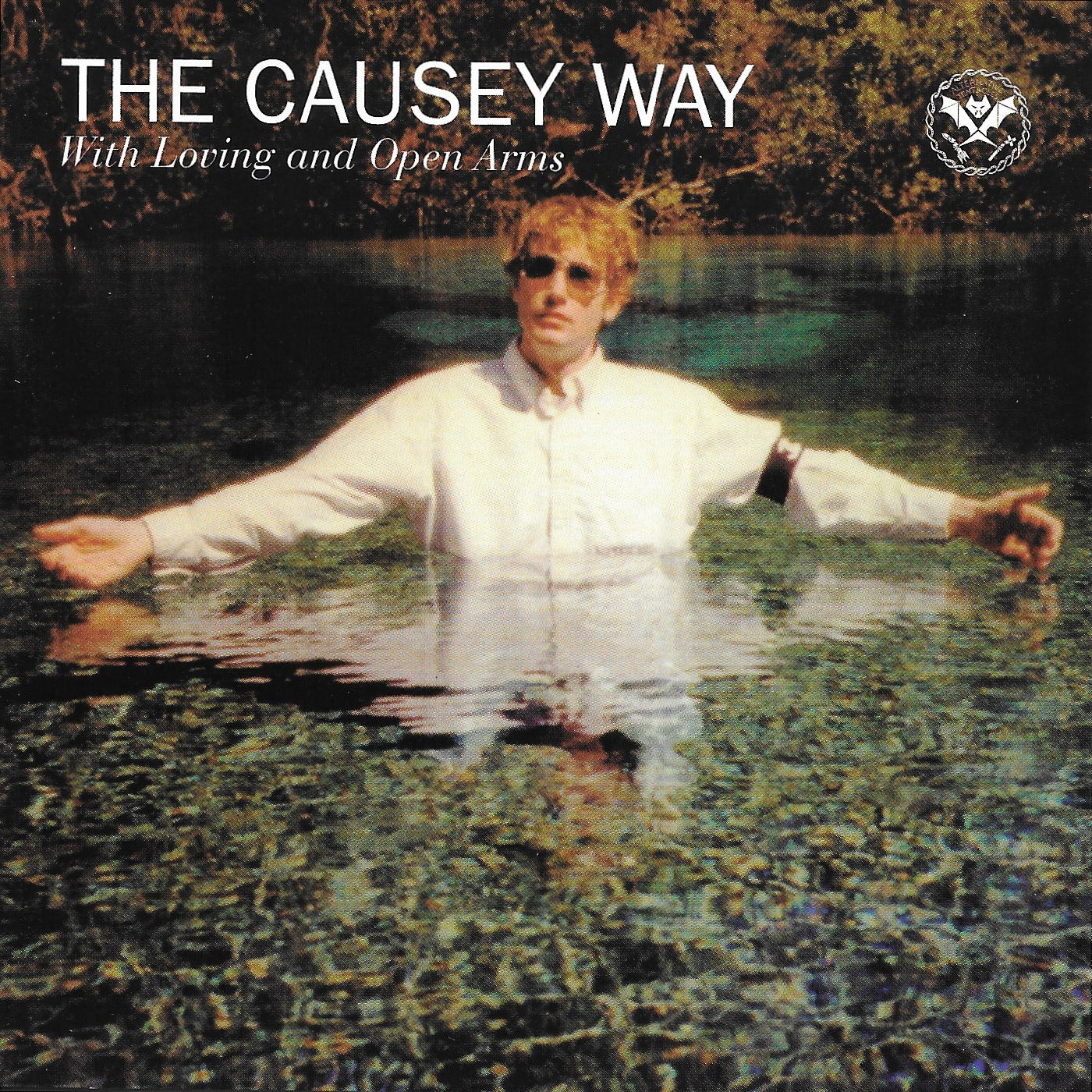 v231 - The Causey Way - "With Loving And Open Arms"
Artist Name: The Causey Way
Album Title: With Loving And Open Arms
Virus #231
The Causey Way is not a cult. They wish they were, but they're not. Sure, they're building a compound in a remote and undisclosed place, outside of Gainsville, Florida.(oops) Sure they offer Causey Blood (vegan) in communion cups before their services. And sure, of course, concert goers are encouraged to fill out membership name tags at at the show and it goes without saying that they're more than merely terrified about Y2K.
Causey formed the band in 1997 with his requisites stringent in recruiting his flock. The future parishioners were not allowed to have been in a band - not in their current life nor in prior lives. They made one exception though, they allowed Boy Causey to join the band. Boy, aka "Brian", you see, is currently in a ROCK N ROLL band called Man Or Astroman? as well as serving in Servotron. Causey, believe it or not, used to be a professional skateboarder using the phony last name "Stanton". He used to defy gravity with corporate sponsorship emblazoned upon his bosom (in interviews he would explain "it was the closest feeling approximating that of walking on water") when one day he landed on his nose and finally saw the light. This revelation changed Causey. He wanted to start anew, he suddenly felt a greater purpose. He needed to remain true to his new self while at the same time start something new & exciting and not merely regurgitate putrid bile like some old Linda Blair movie. He dreamed that his followers would release doves in asking for an encore, rather than lighting lighters. He had a mission, and the mission was The Causey Way.
Shortly after this period Jello Causey received a care-package from The Causey Way. It contained a digital testament of their musical sacrifices, and some thoughtful Y2K preparedness items such as generic bleach, generic toothpaste, and enough cotton swabs to clean out an entire chapel-full of ears. Shortly after receiving the package, he quickly filled out his membership nametag, and the rest is history. (Jello has adamantly denied journalists' claims that he was 'brainwashed'.) It was exactly the type of new 'testament' wave, and pulpit punk that was missing in his life. (Some heathen have made references to Devo due to the presence of keyboards.)
Jello wasn't the only soul converted. Rain Phoenix (sister of late River Phoenix) quickly signed up and did penance by singing background vocals on With Open and Loving Arms. One openly famous musical celebrity superstar, Michael Stipe of the rock quartet REM, was so healed upon experiencing The Causey Way service, that he invited the pulpit back to his house for a serving of grits to show his gratitude. The band declined.
Prior to their debut full-length sermon With Open and Loving Arms, The Causey Way released an ep by the name of WWCD (that rose to #30 on CMJ's charts) and released an ep called Testimony for the skankedly trendy label Fueled By Ramen.(Less Than Jake's label) before releasing their latest one Causey vs. Everything on Alternative Tentacles in January 2001.