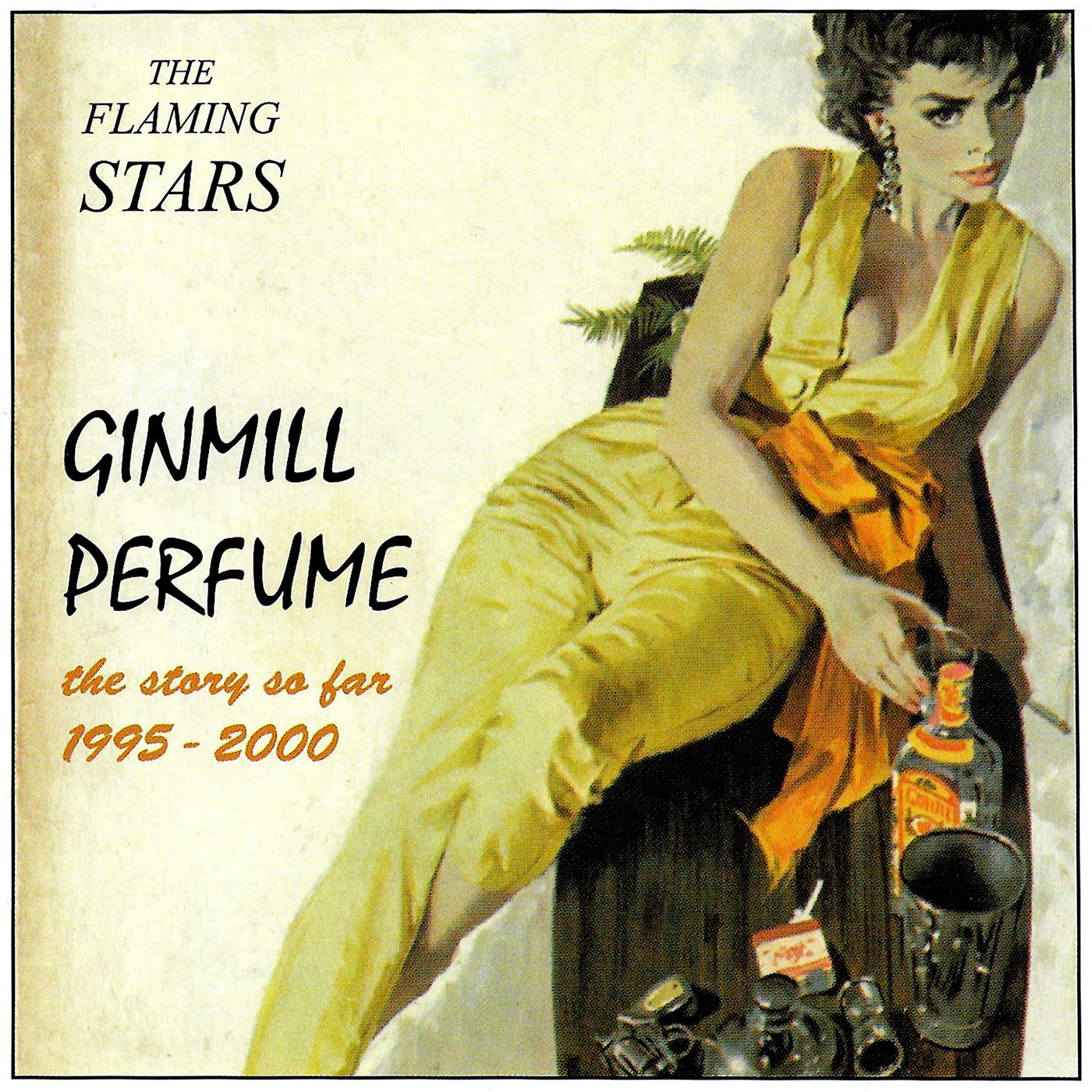 v268 - The Flaming Stars - "Ginmill Perfume - The Story So Far 1995 - 2000"
Artist Name: The Flaming Stars
Album Title: Ginmill Perfume - The Story So Far 1995 - 2000
Virus #268
Just when y'all thought you can peg AT for putting out punky, noisy rock oddities and intellectually pregnant spoken word, here we go again throwing you for a loop!
The Flaming Starts have remained an elusive band stateside despite their 5-year career in England. And what do they sound like? Imagine cavernous Phil Spectorish production, reverb'd guitars, and velvety baritone vocals over vaguely tropical rhythms and lazy rockabilly beats: suave, sophisticated, seductive...oh, yes! If you dig MICK HARVEY's (of the BADSEEDS) solo output of SERGE GAINSBOURG covers, the FLAMING STARS will be the perfect drug for you.
Since their first EP in 1995, the U.K. band have released six albums, ten singles, gigged extensively in the UK and Germany, and played shows in France, Holland, Denmark, Sweden, Greece and Japan. They have a caustic sophistication at a constant tug-of-war with the deep-down sleaze 'n' roll straight from the bar room floor. Unlike typical garage acts immortalizing vintage juvenilia, they carve out a sultry, mysterious world with their sound. Their sound combines early punk, Ennio Morricone soundtracks, Slade, outlaw country and Tom Waits. Melody Maker called them "a fistfight between the Voidoids and Jerry Lee Lewis". The German press called them : "Nick Cave meets Elvis in a whiskey bar".
The band is fronted by singer and keyboard player Max Décharné, former drummer with Gallon Drunk, who is also the author of four books and a regular contributor to Mojo and Bizarre magazines.
In November, they will tour the U.S to support this album and their new single "One Lonely Night / Days Like This" (virus 267 September 10th) as well as promoting Max's latest book Straight from the Fridge Dad, a book on 1920s-1960s hipster slang, to be published in November via Random House.
GINMILL PERFUME culls some of their hits from : SONGS FROM THE BAR ROOM FLOOR (1996), BRING ME THE REST OF ALFREDO GARCIA (1996) , SELL YOUR SOUL (1997), PATHWAY (1999),and A WALK ON THE WIRED SIDE (2000). It also includes 1 song that is out of print.
Max Decharné will appear on 'Hardboiled Hollywood' on Thursday, September 27th, 2001. He is a published writer with a new book on 20s-60s slang,Straight from the Fridge Dad (Random House) out in November, 2001 and a regular contributor to Mojo and Bizarre. He will be doing readings and signings in various major US cities.