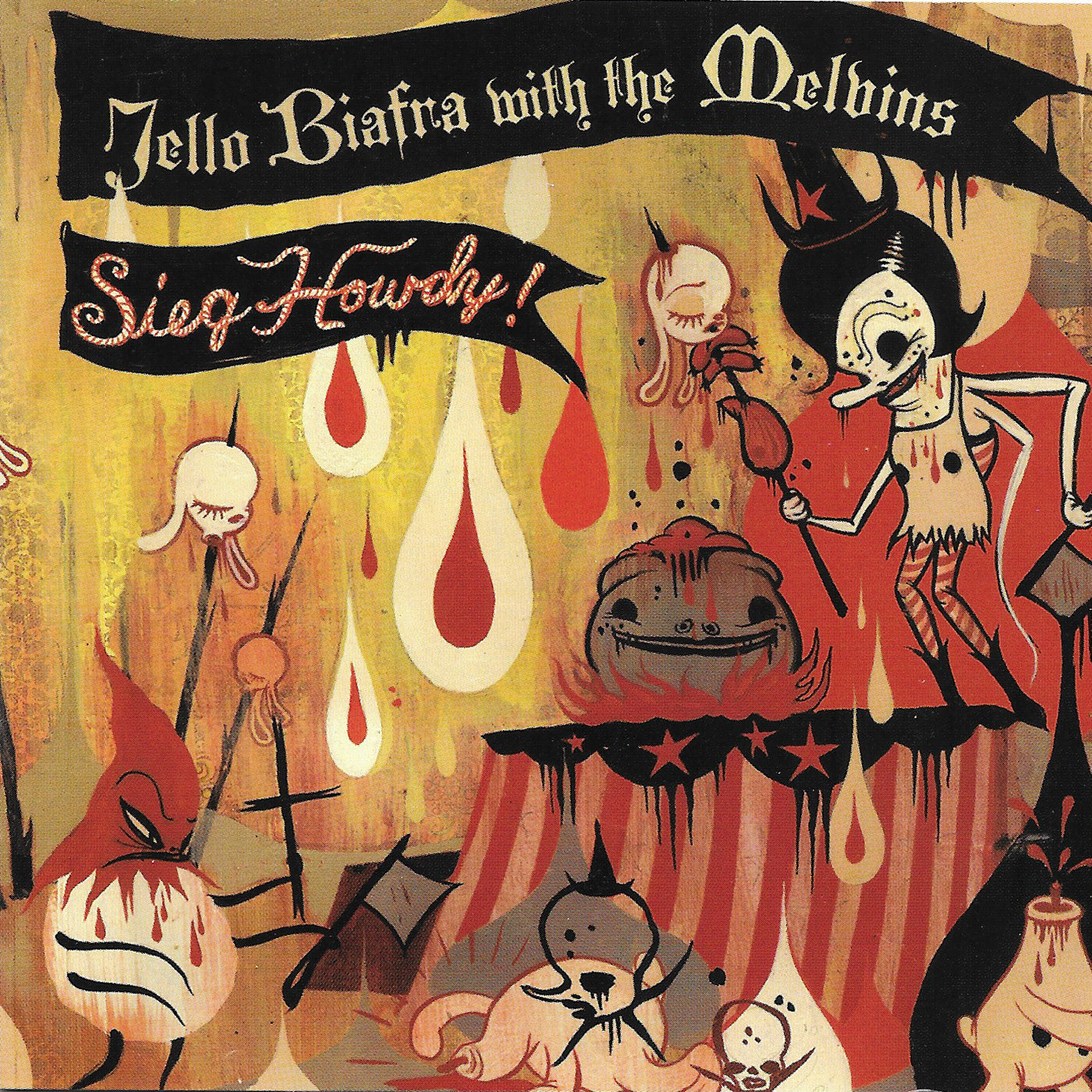 v350 - Jello Biafra With The Melvins - "Sieg Howdy!"
Artist Name: Jello Biafra With The Melvins
Album Title: Sieg Howdy!
Virus #350
Fucking AWESOME. Jello and the Melvins #2. Buy It.
What, you need more reasons? Jello Biafra and the Melvins are musical pranksters united for a common cause - to detonate your brain with some of the most twisted rock anthems ever crafted!
Starting off album #2 with a heavier-than-life version of the Alice Cooper cult classic, "Halo of Flies," an intricate tune that alternately slithers and crushes, the band then proceed to treat us to a completely different extended take of their tune "The Lighter Side of Global Terrorism" (Jello's Hawkwind influence showed through when he asked the Melvins to create a take on the song similar to their cover of "Youth of America" by The Wipers). With the first two harrowing tracks clocking in at over fifteen minutes -this is not what you'd expect from a Jello record - steering into a more Melvinoid direction, but remaining distinctly separate from anything easily definable - far from a mishmash or outtakes collection, even the Jelvins were surprised at how well Sieg Howdy! flowed as an album.
Through the course of the album the band (yes, they sound like a proper band, not a "project!") erupts with colors of its respective players in turns. Biafra's spleen-venting rants "Voted off the Island" and "Those Dumb Punk Kids (Will Buy Anything)" are amongst his most acerbic (not to mention insightful!), and the Melvins' cathartic drum and guitar workouts pummel brilliantly through "Lessons in What Not to Become" and the septic all bass-chug of Kevin Rutmanis (making his final appearance on vinyl with the Melvins on this album) and Buzzo that anchors "Wholly Buy Bull."
Of course, the cherry on top is Jello and the lads ripping through a new, updated version of "Kalifornia Über Alles" - as sung by the Gropenführer himself, Arnold Schwarzenegger! With Jello's unmistakable wit and even more distinctive punk-rock croon fully intact, it's a breath of fresh air to hear a live Jello classic sound the way it was intended to for a change!
The album's remaining remixed tracks serve to deepen the impression that what has been created throughout the course of this collaboration is the work of a band - A band whose songs have enough depth to remain interesting in new and sonic environs. Dalek's chilling reworking of "Dawn of the Locusts" brings the song into a completely different light, and Al Jourgensen's (Ministry) take on "Enchanted Thoughtfist" is so cold and almost new-wave-y that it works brilliantly. The tone of the track reaches waaay back into the Ministry back catalog, surprising even Al himself! Then the fresh new tag-team Deaf Nephews (Dale Crover and Toshi, the album's engineer) reshape "Caped Crusader" into a disturbing cartoon version of itself to round out the record. The fact that these songs are open to this kind of interpretation, and that these interpretations work so well is a testament to the quality with which they were crafted in the first place.
Once again, the band is joined by Adam Jones from Tool on guitar for over half the tracks, and this time around, the stunning artwork is provided by none other than Camille Rose Garcia! 27 minutes of new and never before heard Jello Biafra and the Melvins and 17 minutes of remixed weirdness from the group's friends has created a record that surpasses its predecessor in sheer sonic audacity and is an extremely satisfying listen in its own right. Whether you missed the boat the first time around, or you couldn't get enough of Never Breathe What You Can't See, it's time to stand up, put your right hand over your heart, extend that middle finger, and say it loud - say it proud - SEIG HOWDY!
The LP has the same songs as the CD, although it's spread out over a 12"LP and a 7". Don't forget to grab the first Jello/Melvins sonic explosion, Never Breathe What You Can't See!