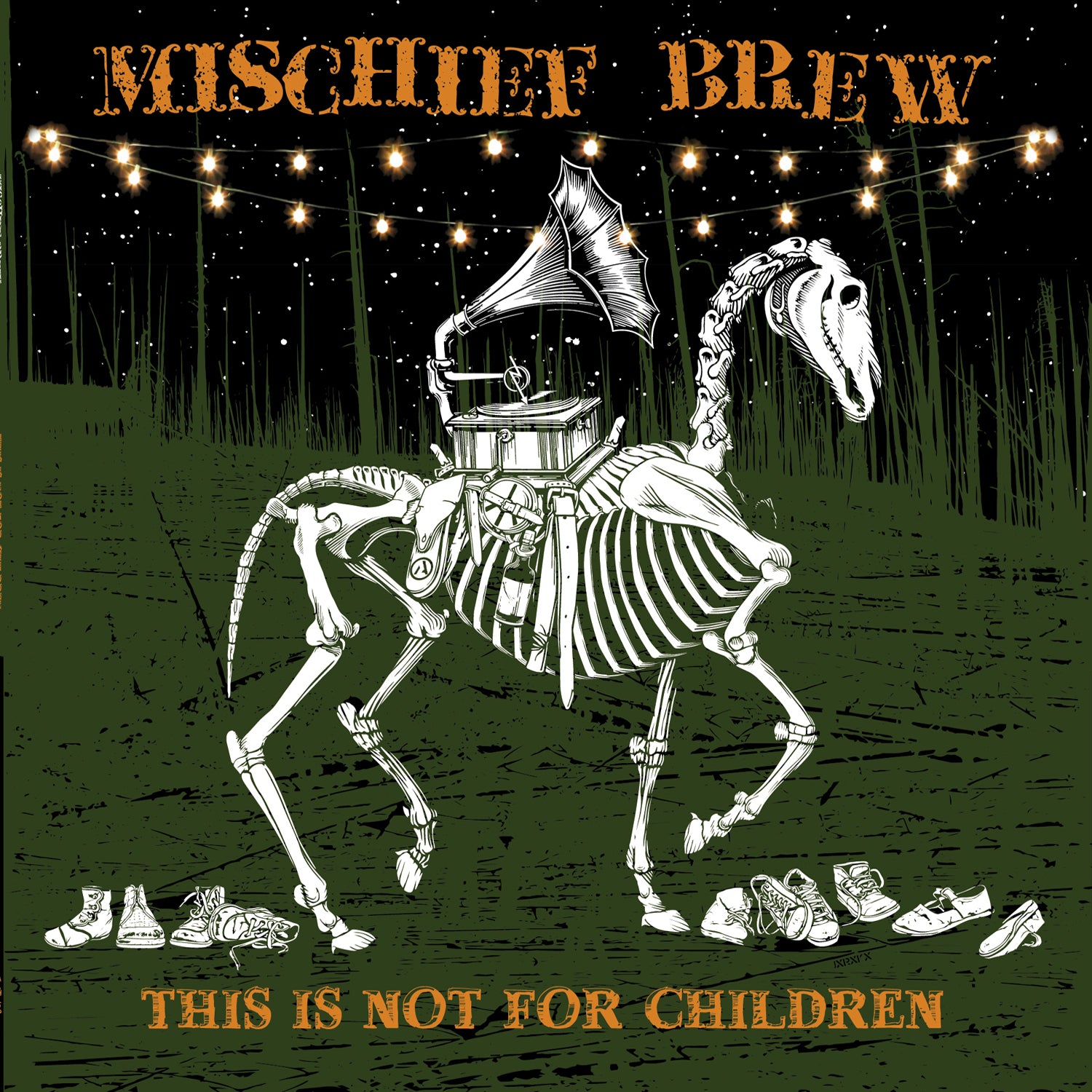 v471 - Mischief Brew - "This Is Not For Children"
Artist Name: Mischief Brew
Album Title: This Is Not For Children
Virus #471
Philly anarcho-punk/folk troubadours MISCHIEF BREW celebrate their 15th year not with a champagne toast, but by barreling into the bar and slamming down This Is Not For Children, their fourth studio album and debut on Alternative Tentacles Records. Recorded at Permanent Hearing Damage by Steve Roche - who recorded many of the band's early releases including Songs From Under The Sink - it breathes and bleeds a tough spirit that could only have been born in the streets, bars, and empty warehouses of Philadelphia, PA.
These ten songs plow forward, picking up where
The Stone Operation
left off in 2011, but with less chaotic ornamentation that one might classify as "Gypsy-punk" or "pirate folk." Quite simply, these were written in a South Philly garage with three instruments, and for the most part, that's all that was needed to complete them. Sure, there's a little acoustic guitar, violin, junk percussion, and even glockenspiel... but at its heart, this is a punk album.
MISCHIEF BREW
lyrics have always been a carnival funhouse. Here once again, everyday idioms and images are cleverly twisted and turned into songs about gentrification, workers' rights, squatting, baseball, drinking, growing up, horror movies, and all ending as a heartfelt tribute to lost friends. Tracks like
City Of Black Fridays
a rousing working class acoustic anthem,
Lancaster Avenue Blues
which points the finger at real estate developers renaming neighborhoods to encourage gentrification, and their ode to their home state called
O, Pennsyltucky!
which was released in October, with a video shot completely in the near-ghost town of Centralia, PA, while anthracite coal fires burned underground, all lend themselves to create the American-Gothic theme that permeates
This Is Not For Children
.
The Pogues
and
Tom Waits
influences have always been present in
MISCHIEF BREW
records...but this time, there is a wider cap-tipping to the likes of
New Model Army
,
The Replacements
,
Squirrel Nut Zippers
,
Bad Religion
,
Bedlam Rovers
,
Flux Of Pink Indians
, as well as other mid-80's UK anarcho-punk like
Thatcher On Acid
and
Political Asylum
. However, perhaps the greatest influence is the band's own fair city of Philadelphia. While "The Stone Operation" took you everywhere from Dallas to Paris to Nevada City to Romania,
This Is Not For Children
hunkers down at a dive bar around the corner from the practice space, with all the collected stories from the road, and decides that Philly, despite its ups and downs, is inseparable with
MISCHIEF BREW
. It's an old school town, rough-and-tumble, and may not be as glamorous or expensive or championship-laden as its Northeastern rich younger siblings. But as it's sung in
City Of Black Fridays
: "We are beaten, full of crow, but I know I'd never call another home 'home.'"