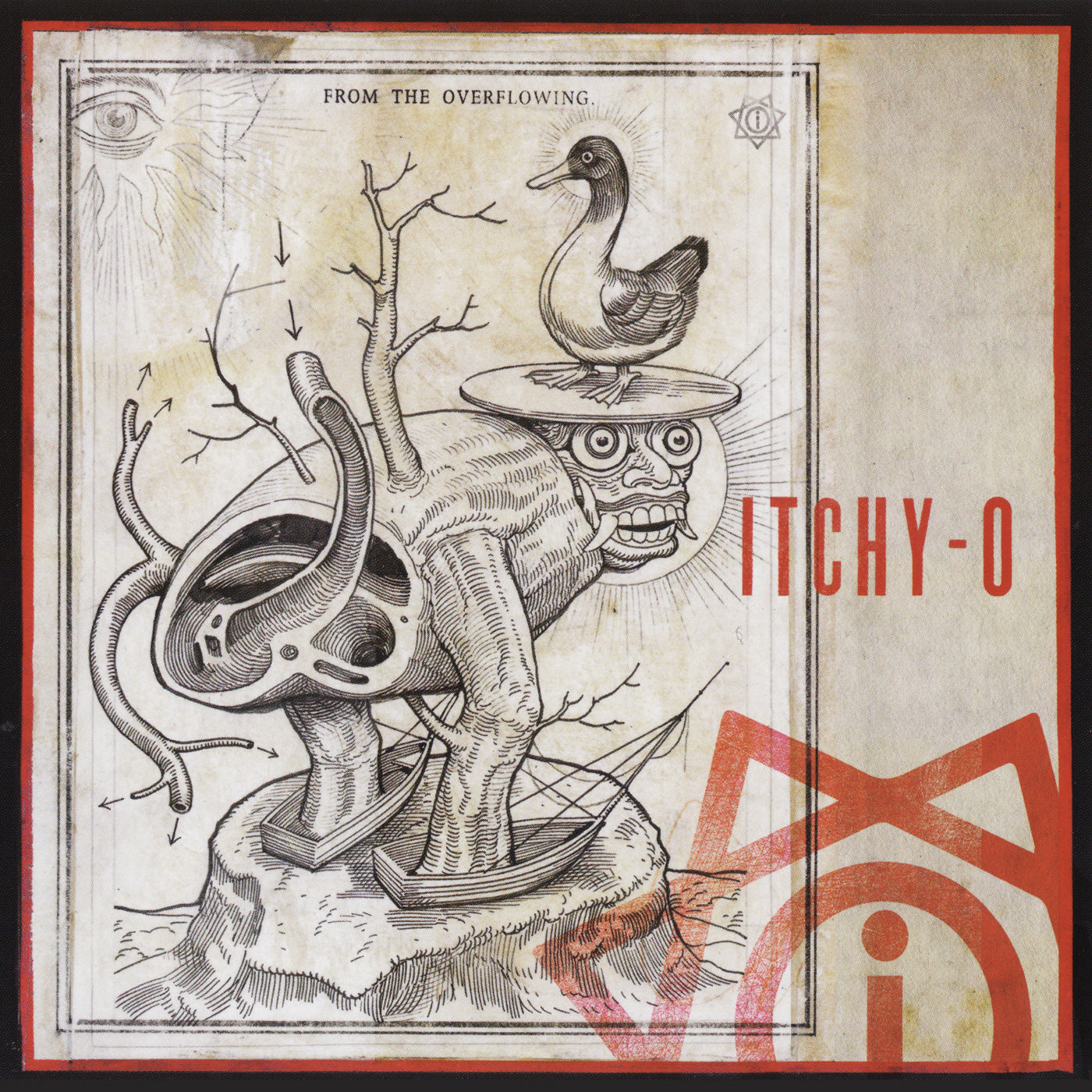 v492 - Itchy-O - "From The Overflowing"
Artist Name: Itchy-O
Album Title: From The Overflowing
Virus #492
If you've never experienced the disorienting power of this throbbing 50-piece troupe of masked chaos, you're about to get another chance to join the apocalyptic party that is itchy-O. Infamous from Colorado to Tasmania for astounding unsuspecting audiences with their aural and visual insanity, itchy-O returns to unleash a fresh new album to add to their legendary live spectacle. They are the most unique band Jello Biafra has signed to Alternative Tentacles in many years!
Based in Denver Colorado, the percussion-centered electronic performance group has brought their otherworldly, arcane, and sweat drenched shows to audiences around the world with their sophisticatedly savage sound enlivened with the sheer ecstasy of instruments untethered and running free. The hive-mind of itchy-O has declared war on today's predictable mediocrity and have blind- sided audiences with their unique music and astonishing live performances since forming in 2009.
"From the Overflowing" is the follow-up album to their full-length debut "Burn The Navigator" which was released by Alternative Tentacles in 2014. This new release is charged with the same sonic fury of their live shows delivered by a driving drum corps battery and taiko drummers along side Spaghetti Western guitar licks, snake-charming bass lines, and a rich arsenal of dark electronics including synthesizers, theremin, and vocoders. Itchy-O completely engulfs and immerses its audience from every angle in a pounding electric bog of music and ephemera. While these itchy-O events are legendary this well-produced record stands on its own and is sure to be a mind-bending auditory voyage of experimental splendor.
From the opening track, "An Eagle Brought Me Honey," to the explosive charge of "Witch's Foot" and "Gallows Disco"; itchy-O dares you to join their primal-futuristic parley. No matter what island of music you inhabit, "From the Overflowing" is a journey every music junky will want to take!
Reviews:
"From the Overflowing,"...sounds like Blue Man Group if it were infiltrated by satanists and members of Sepultura."-Chicago Tribune
"...with their latest Alternative Tentacles release "From The Overflowing", this marching band on acid has found a way to capture their fury and intensity which fans can listen to long after the lights come up and the sweaty masses of the audience wonder what the hell they just witnessed...Simply put, the marching band nerds have grown up and they're one-hundred times cooler and more sinister than anyone ever imagined."
-
The Marquee Magazine